Classic & Yummy Greek salad recipe
Simple and yummy Greek salad is one of my favorite recipes. Usually I cook this dish 1 or 2 time on a week. My children and husband like this salad too. Greek salad is make from fresh vegetables, feta cheese and green.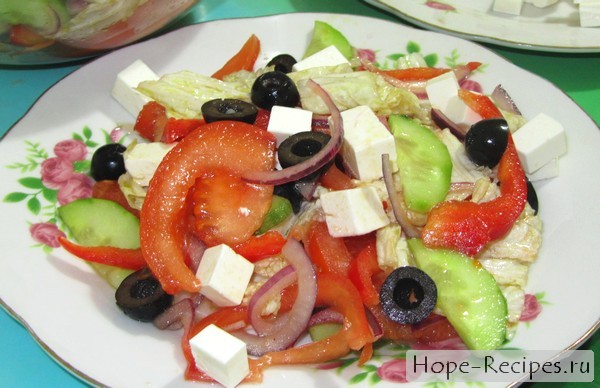 How to make Greek salad dressing
100% naturally cold pressed olive oil use for salad dressing. Sometimes I use organic hemp oil – this is very taste too! Hemp oil is more delicate flavor than olive. Greek salad dressing is make for 1 part of olive oil and 1 part of lemon juice. For good flavor I add in the salad dressing dried oregano and a little black pepper. For piquant taste, I put in salad dressing 1 teaspoon of balsamic or red wine vinegar.
Greek salad ingredients
Ingredients (serving for 2 person):
8 sweet cherry tomatoes;
¼ red onion;
½ cucumber;
4-5 leaf lettuce (or Chinese cabbage);
10-15 black olives;
80g feta;
½ sweet pepper (optional);
1 tbsp capers, drained.
For salad dressing mix:
1 pinch of dried oregano;
1 pinch of black pepper;
1 tbsp vinegar (red wine or balsamic);
2 tbsp extra virgin olive oil (or hemp oil);
2 tbsp lemon juice.
Making the salad is very easy! Cooking time only 5 minutes. Greek salad contains about 160 Cal in 100g. It is not too many calories for your healthy Eating. Nutrition facts in 100g: 4,6g of protein, 13,8g of fat, 4g of carbohydrates.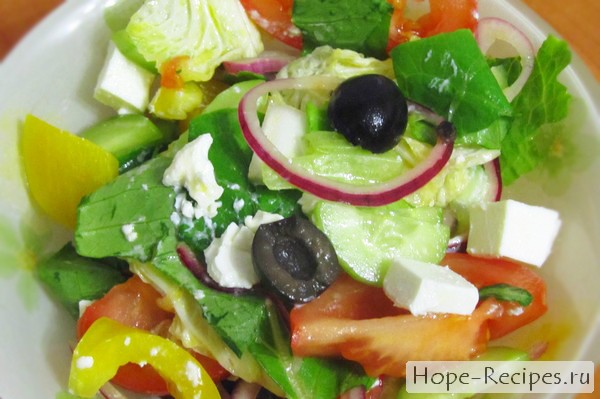 How to make Greek salad?
First step of preparation: wash vegetables and lettuce, dry with a paper towel.
Torn lettuce into small pieces and put on 2 plates.
Cucumber peel and cut into large pieces.
Slice the onion thinly, cherry tomatoes cut in half.
Remove the bitter white pepper core and chop the peppers into strips.
Mix vegetables and served on 2 plates.
Use the salad dressing (mix of olive oil, lemon juice, dried oregano & vinegar).
Add to salad cheese cubes, black olives and capers.
Enjoy delicious traditional homemade Greek salad! The recipe is very healthy and easy to cook.
Bon appetite! Rate & like this recipe, write a review.